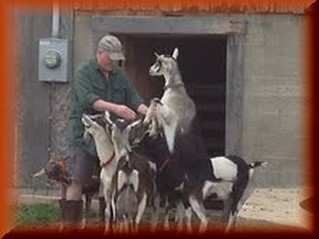 Midnight Goat Farm is a very small, family-run Grade A Goat Dairy and Creamery located in Huntington Vermont. Our wonderful, pasture-fed Alpine goats are milked daily by hand. We produce our handcrafted artisan cheeses from the delicious, raw milk in micro-batches.

Our ingredients are all natural with no fillers or preservatives. We don't use Antibiotics, products containing GMOs or Hormones of any kind. We are not certified organic, but mostly practice at or above organic standards.

Lastly we are the only commercial Grade A "hand milking" dairy in Vermont, which ensures extra rich milk from stress free goats.










---